Looking for a customized, beautiful way to house your media and entertainment devices? Need a woodworking display piece to enhance the ambiance of your space? Lurk Custom Cabinets is prepared to provide you with seasoned woodworking products that are the ideal combination of beautiful and functional.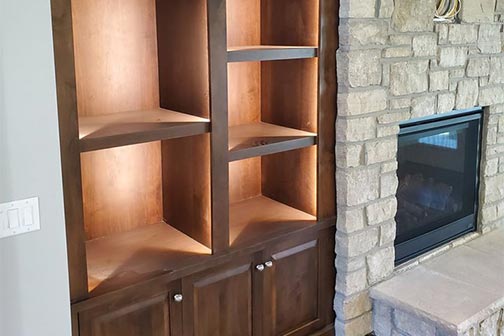 Our master craftsmen specialize in entertainment centers, mantels and custom hutch designs in Ste. Genevieve, MO. We guarantee our finished pieces will look exceptional in your home.
Entertainment Centers
Being able to house and display your television, media players, streaming devices, speakers, woofers, sound bars and any other entertainment technology in a single place is important. We build entertainment centers that wrangle your technology in the best way possible—so it's all easily accessible and beautifully displayed. From enclosed units to massive open-faced options, we'll customize our designs to fit your needs.
Hutches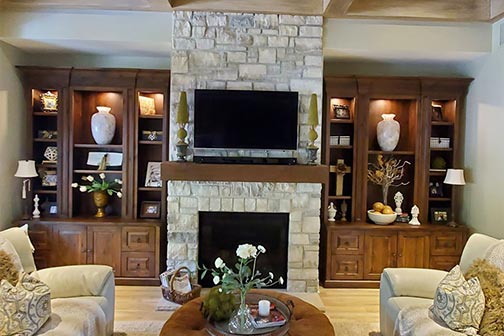 Have heirlooms, China dishware, figurines or anything else of importance that deserves to be on display? We have the ability to craft custom hutch designs, built to spec, that do an exceptional job of housing and displaying your most cherished items. Our builds are completely customized for your specific application, and we frequently build for living rooms, dining areas, kitchens and even bedrooms.
Mantels
Custom mantel designs in Ste. Genevieve, Bloomsdale, Zell, St. Mary, and St. Louis, MO can be truly transformative in your home. Whether you intend to display photos, decorate or shelve items, we can construct a mantel that speaks to your home's unique design elements. Best of all, we'll frame your fireplace perfectly, to ensure it's a standout feature in your space.
Custom Built to Your Specifications
For more information about our custom design and build capabilities for entertainment centers, hutches and custom mantel designs, please contact us today at 573-483-9792. We'll get to know your needs and wants, and can help you navigate design styles and finishes that are right for you. We guarantee you'll absolutely love the finished product in your home! We also create laundry room cabinets and kitchen and bathroom cabinets.